Confection?
Or customization?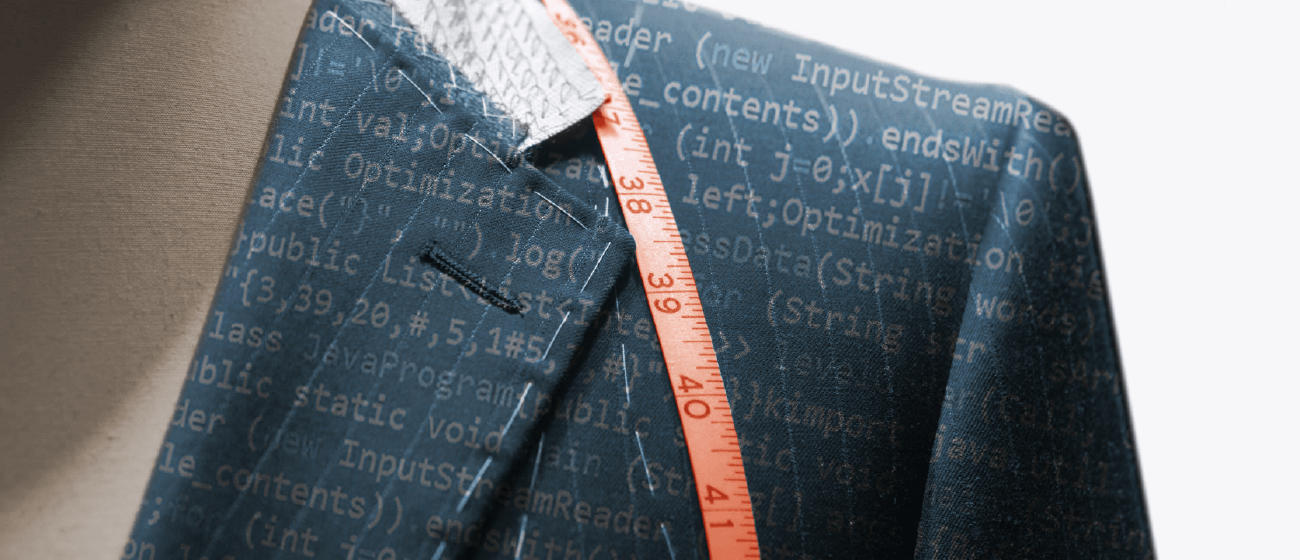 In the fashion industry, off the rack apparel has become the standard and tailor-made is the exception. Since the human body can easily be reduced to a number of standard sizes, this is perfectly fine. At most, a new suit might need a few minor alterations. But that just about covers it.
However, the latest available technologies might just change all of this. Tailor-made suits might become the new standard. Take a couple of quick measurements with a digital scanner, select the fabric you want, and then use Virtual Reality goggles to check out what the final result would look like. Satisfied? Press a button, and the suit will be automatically made to your measurements.
When we compare tailoring a suit to automating business processes, we see quite a lot of off-the-rack solutions: many standard applications are used in project implementations. But does it actually fit?
When we compare organisations to a human body, we see a wide range of variations. In general, a human body has two arms, two legs, one head and a torso that keeps everything together: a clear basic structure. But like human bodies, each company is unique and does things just a little differently, and is often structured just a little differently – and that's not even mentioning the huge variety of projects companies handle. This means that the differences are so significant that they cannot really be compared to the differences in clothing sizes. We could conclude that off-the-rack solutions do not really suit most organisations.
As an organisation, you would like nothing better than to have that new suit tailored to your own frame: a system that perfectly suits your way of working. Tailor-made solutions, but with an off-the-rack price tag.
Based on the experiences of the last few decades, many people will believe that the combination is impossible. And that's understandable, but a new generation of ICT solutions are currently becoming available that will achieve that dream of tailor-made solutions at an off-the-rack price. Based on modern ICT technology in the cloud, these new systems are referred to as 'low code' platforms or modelling environments.
The perfect ICT solution for a complex organisation would then consist of two parts. First, there is a solid foundation where all the financial transactions converge. This core is then surrounded by a layer of specific functions and processes that connect seamlessly with your organisation's preferred way of working. In short, an actual tailored solution that fits you perfectly.
VanMeijel provides software and services for project management, financial, logistics and service management, exclusively targeting on construction and related industrial services. With their Metacom Platform, VanMeijel creates solutions for more efficient, higher quality processes. VanMeijel uses BizzStream as the first module within the Metacom Online platform.